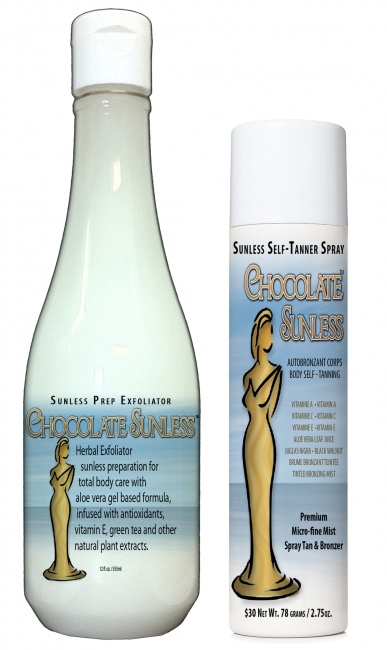 Sunless Exfoliator and Spray Tan in the Can

Our Price: $44.95



12 fl. oz.PREMIUM Pre Sunless Prep EXFOLIATING BODY WASH.

SUNLESS TANNING PREPERATION AND OVERALL SKIN CARE TO ACHIEVE A SMOOTH AND MOISTURIZED FACE AND BODY. WILL RINSE CLEAN WITHOUT RESIDUE. HERBAL BODY WASH ENRICHED WITH ALOE VERA GEL, GREEN TEA, CUCUMBER, GRAPE SEED, CALENDULA, CHAMOMILE, VITAMIN E, DEAD SEA SALTS, (ACTIVE INGREDIENT-BENZALKONIUM CHLORIDE 0.13%/ANTIBACTERIAL AGENT).ANTIBACTERIAL*KILLS GERMS ON CONTACT.

Turn Key Private Label available.
Have your logo or business card on label.

=================================================

CHOCOLATE SUNLESS Premium Spray Tan & Double Bronzer Concentrate

Chocolate Sunless Tan in a Can is a self-tanner that won't stain your hands and feet. Like a trip to the salon, our Canned tan solution goes on as a micro-fine mist leaving you with a smooth, balanced tan. The built in bronzer will give you an instant, all-over healthy glow while the long lasting self-tanner develops underneath.

Benefits:
- Sold by Salon and Spa Professionals
- Never Tested on animals
- Made in the USA
- Vitamins A,C,E & Herbal Extracts
- Designed as a travel companion and is FAA travel compliant.

Directions:
- Shave and exfoliate body.
- Shake well, spray very light coat 12-18 inches from body.
- Spray in an even, sweeping motion.
- To prevent fading use tan extender daily.
- Avoid exercise and shower for 6 hours.

Ingredients:
Aloe Vera leaf juice in deionized water, Dihydroxyacetone, Isopentyldiol, Isobutane (A34), Ethoxydiglycol, SBA 40b Alcohol, Glycerine, Juglas Nigra (Black Walnut) Extract, Retinol (Vitamin A), Ascorbic Acid (Vitamin C), Tocopherol Acetate (Vitamin E), Allantoin, DMDM Hydantoin, Citric Acid, FD&C Red #40, Red #33, Blue #1, Yellow #5, Fragrance.