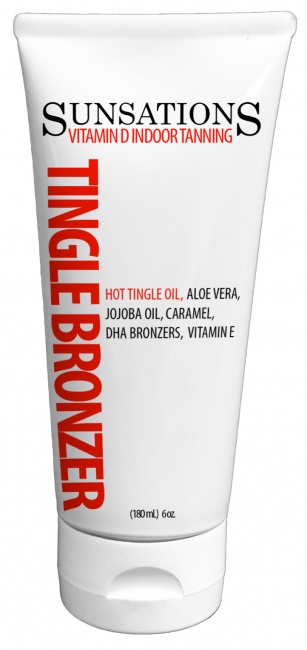 Sunsations Tingle-Bronzer (5oz.)

Our Price: $25.00



Benefits:
-High Technology Silicon Emulsion
-Strongest Tingle
-DHA Bronzer
-Hemp Lotion
-12 Self Adjusting Bronzers
-Extreme tingle formula increases blood flow and tanning cell activity
-Revolutionary AMP-Bronze technology contains an intense blend of natural and DHA bronzers for immediate and long-lasting results.

Ingredients:
Professional UV amplifying formula with Biotanning, Tyrosine Complex, Copper, Unipertan and Carrot Seed Oil * Skin firming, anti-aging and complexion balancing formula features Red Algae, CoQ10, Caffeine, Collagen, Soy, Seaweed, Caviar Extract, Oyster Extract, Vitamin A, Vitamin C, Vitamin E, Vitamin K, Aloe Vera, French Virgin Hemp Seed Oil, Cocoa Extract, Wild Cherry Extract, Sesame Oil, Chamomile Extract, White Birch Extract, Grape Seed Extract, Shea Butter, Silk and Botanical Extracts and Fruit Punch fragrance.